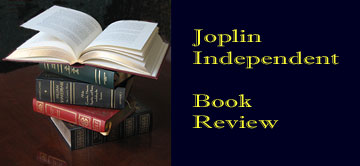 by Jack L. Kennedy
The word "hustler" in sports or other human endeavor usually relates to energy, willingness, and other virtues physical or mental.
But in The Sporting Stings (Black Rose Writing) veteran sports writer Dave Heeren uses a variety of examples in sports from baseball to bowling, basketball to tennis, to define the word more often as scammer, egoist, eccentric, entertainer or someone following the principle of how to succeed without really trying, or at least how to create a good public image without a lot of effort.
The variety of sports figures in the book often come off not so much as criminals but as comic figures. Much of the early part of the one-time United Press International sports writer's diatribe to me is spent on former tennis player Bobby Riggs, a short, squat, outspoken and egocentric character on the court and off. He bet on himself, literally, before the days of big incomes from sports competition. Like many fellow hustlers in the book, he sometimes lost to make his bets turn out better. When he did this, he did not consider himself a hustler or a crooked athlete, he said. He believed he was simply adding entertainment value.
The New York Yankees and famed manager Casey Stengel are noted for their showmanship, as is former Joplin Miner turned Yankee Mickey Mantle. The Commerce, Oklahoma native, it is observed, was not particularly liked by many; he was not known for his modesty or controlled tongue.
Equally outspoken, and able to verbally twist officials and players at times, was famed football coach John Madden. Joe Namath, Reggie Jackson, Joe Louis and many other sports figures with differing styles and motivation also are in Heeren's sights.
In one tale, a discussion of a Super Bowl victory is promised. You can bet on more stories like that in the book.
Lovers of bowling--locally appreciating the sights and smells and sounds of earlier Joplin 10-pin palaces like the Modern or Fourth Street Bowl, or early-day TV network matches on Saturday mornings--will find several pages given to ways famed pro bowlers like Dick Weber and others made money through side bets or other maneuvers on the road, before bowling became a big-money enterprise with multiple sponsorships.
Sports writing (columnist for USA Today) and storytelling, statistics (NBA analyst) and stings, have kept Heeren busy for many years. His coverage of sporting stings appears to focus more on human interest than than an expose of the sins of omission or commission. However, the verve, variety and color of these yarns should leave the reader amused, intrigued and not disappointed.
Also widely popular is the book he wrote in 2011 with Pete Palmer entitled Basic Ball: New Approaches for Determining the Greatest Baseball, Football and Basketball Players of All-Time. Heeren retired from the South Florida Sun Sentinel in 2007.
---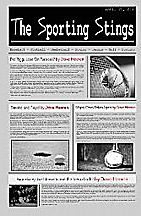 Title - The Sporting Stings
Author: Dave Heeren
Publisher: Black Rose Writing (Apr. 25, 2013)/
$17.61/paperback/242 pp.; 7.99/Kindle at amazon.com/ 462 KB
ASIN: B00CRPEGP6
ISBN-10: 1612962009
ISBN-13: 978-1612962009

---