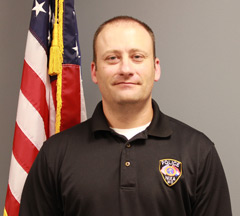 Lt. Jimmy Liles, pictured, will serve as Nixa's interim police chief beginning immediately.
During an executive session of the Nixa City Council yesterday (Nov. 4, 2013), the council appointed Liles to serve in the interim capacity until the council decides on a permanent replacement.
Chief James Bacon announced October 29, 2013, that he's leaving law enforcement after 29 years and joining the private sector. Bacon's last day with Nixa is November 15, 2013. Until then, Bacon will assist Liles with the transition.
"Jimmy is a great fit for this position," says Bacon. "His leadership skills and stand-up record as an officer have led him to where he is today.
Liles has served with the Nixa Police Department for 13 years, as a lieutenant for nearly three.