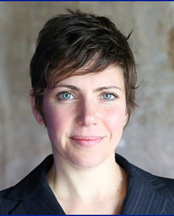 Consumers Council of Missouri, headquartered in St. Louis, has announced that Cara Spencer, pictured, will be its new executive director. The non-profit organization works to educate consumers and to advocate for issues such as fair utility rates, health care access and predatory lending. Spencer fills the vacancy created by the retirement in April of former state Senator Joan Bray, who served as executive director since 2013. Bray also served as a member the group's board of directors from 2006 to 2013.
"I am excited to take on this new role," said Spencer, who also serves as alderman of the 20th Ward in St. Louis City. "Serving as a city alderman and as executive director of this small but mighty non-profit are two part-time positions. But both fill important roles that overlap and compliment each other in ways that will enhance my work in both roles."
Spencer's appointment begins at the close of the Missouri General Assembly's 2015-16 session, after which Missouri consumers can breathe a sigh of relief. Several measures that would have adversely affected consumers did not make it through the legislative process. Among the bills that died were a major revision of utility law that would have allowed more automatic rate increases for electric companies' customers, a change that would have guaranteed water company profits independent of usage and another proposal that would have shifted the burden and risk of building pipelines from gas companies' stockholders to their customers.
But one significant piece of legislation that Consumers Council supported because of its potential to empower consumers was sent to the governor's desk. If signed by Gov. Jay Nixon, Senate Bill 865 would end Missouri's standing as the only state without any kind of review or analysis of health insurance rates. For the second year Consumers Council of Missouri is stepping in to fill this gap, performing a review process through a contract with the Missouri Foundation for Health and the expertise of a former director of the Missouri Department of Insurance, Jay Angoff.
Consumers Council of Missouri was founded in 1971 as Utility Consumers Council of Missouri to educate and empower consumers statewide and to advocate for common interests, working to restore the balance of power between consumers and businesses