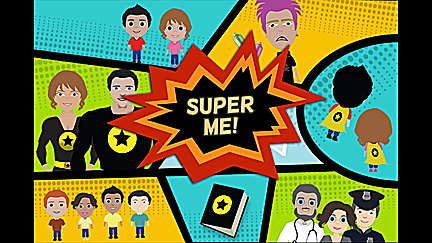 The Ozark Center in Joplin launches Super Me!, an app for Apple devices. Super Me! helps children develop resilience and positive coping skills through a series of in-game and out-of-game activities. Aimed at elementary and middle school children, this app is designed to open the door to parents and children to these skills.
"Many children experience tough situations," said Mary Parrigon, Ozark Center Executive Director. "Unfortunately, not all children have access to resources to help them recover, heal, grow and succeed. This app gives them the tools to overcome those challenges, move forward and grow into healthy adults."
Vicky Mieseler, Ozark Center Vice President of Clinical Services, will present the app later this month at the National Child Traumatic Stress All-Network Conference in Washington, D.C. The theme of this year's conference is "Building Sustainable Systems to Prevent the Lasting Impact of Childhood Trauma." Super Me! will be discussed during a session that focuses on using social media, digital media and technology to reach children and youth.
Stage one of Super Me! focuses on belonging to a community. Children select a character, a house and family members. Values of resilience are promoted by encouraging players to get to know their neighbors and other community members, such as teachers, firefighters and police officers.
"Developing a true Super Me! gives children the encouragement and skills to handle difficult situations and teaches children to interact and draw comfort and support from the community," said Mieseler. "If a child has a good connection to the community that he or she can utilize during stressful times, it can make a difference."
Other stages include support, safety, health, education, creativity, values and creating change. Each includes home discussion points, which encourage children to share thoughts and feelings about resilience and promote the development of community and social support. Guides are available for parents and teachers to help reinforce the Super Me! concepts.
The app is free to download from Apple Store (iTunes) and requires no in-app purchases. Super Me! was developed by Ozark Center, with funding provided by the Missouri Foundation for Health. To download iTunes for Windows (64 bit) go here.